Frequently Asked Questions
Question:
You are a successful author who writes for several major publishers. Why did you create your own publishing company?
Answer:
So often I receive letters from readers asking me to do a book for a secondary character that was introduced in one of my books. I write back and explain that although I would love doing that person's "story", there won't be enough material for a traditional size book or that it won't fit any of the formats and guidelines established by my present publishers.
Giving my readers what they want is what drove me to established my very own publishing company. Yes, I will still write for my present publishers. That won't change. What I've done is establish another avenue to bring you those stories that you want, which means more Brenda Jackson books for you to read about the characters you want. I will depend on you to write and identify those characters you would like me to write about.
Utilizing 37 years of management and customer service skills that I acquired while in corporate America, I not only created my own publishing company, but also an online store as a way of getting the books out there to you.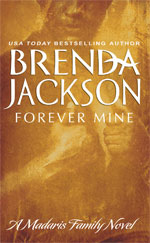 Forever Mine is about Rose and Parnell from Perfect Fit; and Sonya and Mike were from The Savvy Sisters. I also included a Madaris novel; Cupid's Bow - Kyle and Kimara's story.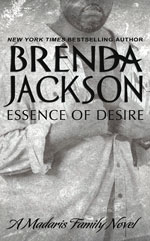 Essence of Desire - This anthology includes the Madaris Novel taken from Something to Celebrate – Trask Maxwell and Felicia Madaris' story, titled Truly Everlasting. It also include 2 new Brenda Jackson stories featuring Robert Noble from Perfect Fit and Michelle Kincaid and Royce Parker from Living Large.
I've been soliciting ideas for future books being published under the Madaris Publishing Company.
Some of the suggestions I've received so far are:
More stories about full-figured heroines
More interracial stores
The Madaris' parents' (Jonathan and Marilyn) story
The Madaris sisters' stories (Kattie and Traci) telling how they met their husbands (Raymond and Daniel)
Robert Noble (character from Perfect Timing)
Michelle Kincaid (character from Living Large)
Nichole Britt (character from Cupid's Bow)
Tonya Savoy and Brian Manning ( characters from A Whole Lotta Love)
More stories on the Savoys
More stories on the Kalloran brothers (Nettie's brothers from Surrender)
Joshua Avery from Fire and Desire
The Westmoreland parents' story
If someone that you would love reading a story about is not listed above, please drop me a line.
Question:
With the popularity of such devices as the Kindle, Sony Reader and Nook, will the books ever be available in e-book format?
Answer:
I am presently researching that avenue; reviewing the pros and cons of such a move. Although it might make it accessible to my readers who uses that format, there are concerns as who retains electronic rights.
Question:
Will the Madaris Publishing Company publish other authors in the future?
Answer:
Presently, that is not the goal of the Madaris Publishing Company. My primary goal is to satisfy my readers with more Brenda Jackson books. To become a full scale publisher will require a lot of time, which I presently don't have due to my writing schedule. The way I have the Madaris Publishing Company set up is to be an extension of me and my writing. My goal is to always bring you stories you will enjoy.
Brenda Jackson, CEO